StateTrust actively participates in global capital markets through its trading Desk. This trading desk provides opportunities for clients to buy/sell fixed income instruments and test market conditions.
Our financial advisers stress the importance of allocating bonds in client's portfolios to reduce volatility and improve diversification*. Therefore, StateTrust's debt capital trading desk constantly looks for opportunities in global capital markets.
The following image illustrates the growth of a $1 investment in high-yield corporate bonds, corporate bonds, government bonds, municipal bonds, and cash over the period January 1, 1926, through December 31, 2010: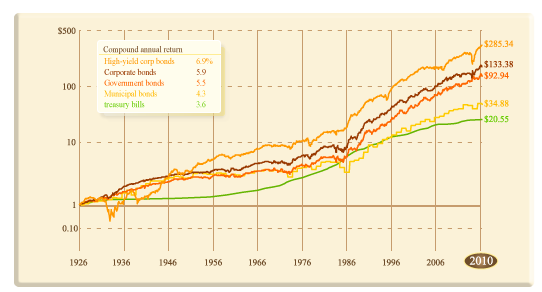 Source: StateTrust's analysis of Morningstar data. Performance shown is not indicative of the performance of any specific investment. An investor cannot invest in an index, such as the one these graphs are based on. Past returns are no guarantee of future performance. These returns are based on historical information, from sources believed to be reliable, but accuracy cannot be guaranteed, and these returns can vary in future time periods.
* Diversification does not guarantee a profit or ensure against loss.
Click here to go to a Section with additional bond investment information.
Links of interest: