StateTrust corporate structure consists of a United States holding company StateTrust Group, LLC that fully owns StateTrust Capital, LLC, a US Investment Advisor firm registered with the U.S. Securities and Exchange Commission (SEC) and StateTrust Investments, Inc., a US Broker-Dealer firm.  The organizational structure is as follows: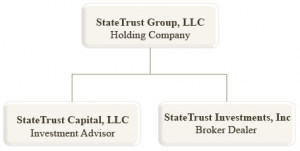 StateTrust is fully committed to integrity and high ethical standards. We have implemented a Code of Ethics that defines the standards of conduct that we expect from our directors, officers and employees to help us make the right decisions in the course of performing our jobs. Every officer and employee of StateTrust is required to read and sign that he or she is fully committed to the StateTrust Code of Ethics and other applicable Firm policies and procedures.
We are committed to a work environment in which all persons are treated with dignity and respect. It is our policy to ensure equal employment opportunity without discrimination or harassment on the basis of race, color, religion, age, gender, gender identity or expression, sexual orientation, national origin, citizenship, disability, marital and civil partnership or union status, pregnancy (including unlawful discrimination on the basis of a legally protected pregnancy or maternity leave), veteran status, genetic information or any other characteristic protected by law. We expect that all relationships among persons in the workplace will be business-like and free of bias, harassment and violence.
 
Acting in the Best Interest of our Clients
We seek to outperform our competition fairly and honestly through superior performance.  Every officer and employee of StateTrust must protect our reputation by dealing fairly with clients, the public, competitors, counterparties and one another. No one should take unfair advantage of anyone through manipulation, concealment, abuse of privileged information or misrepresentation of facts.
StateTrust requires that all officers and employees fully comply with all operational compliance and Code of Conduct as set forth by StateTrust Group.
Your relationship with StateTrust goes beyond investing money. It's about sharing your aspirations and building a long-term relationship with your Financial Advisor.
Your primary contact with us is through your Financial Advisor. We will put the resources of our firm behind your Financial Advisor to help you pursue your goals.
Your Financial Advisor is committed to understanding your: financial needs, investment objectives, tolerance for risk, time horizon and other factors that may affect our recommendations.
We will help you understand your investment choices.
Your Financial Advisor will help you set realistic expectations about the long-term performance and associated risks of those choices.
Your Financial Advisor will be available for direct consultations about the status of your investments with us and changes in your personal profile.
We will provide timely account and transaction information that accurately reflects the investment positions you hold with our firm.
We will disclose information related to the way we are paid by you as a client, including commissions and fees associated with your account. We will answer questions you have about how your Financial Advisor is paid.
We will disclose information regarding payments we receive from third parties for the products and/or services in your account.
We will share our policies and practices relating to the privacy of the information you provide us.
If you have an issue or concern, we will make it our priority to address it. Our Client Service Group (service@statetrust.com)  is available to help resolve any issues that are not promptly resolved by your Financial Advisor or his/her Branch Manager.
We will do our best to build and grow your trust in us.
To advice, guide, serve our customers with the sole purpose of preserving and growing their net worth.
StateTrust is a Global Wealth Management organization built to meet your investment management, financial planning, and succession planning needs.