Wealth Management Process

Our primary concern is to grow and preserve your net worth. We work closely with our clients, gathering necessary information to understand their unique financial needs, in order to construct a comprehensive long-term relationship and provide a series of individualized recommendations to meet their financial objectives.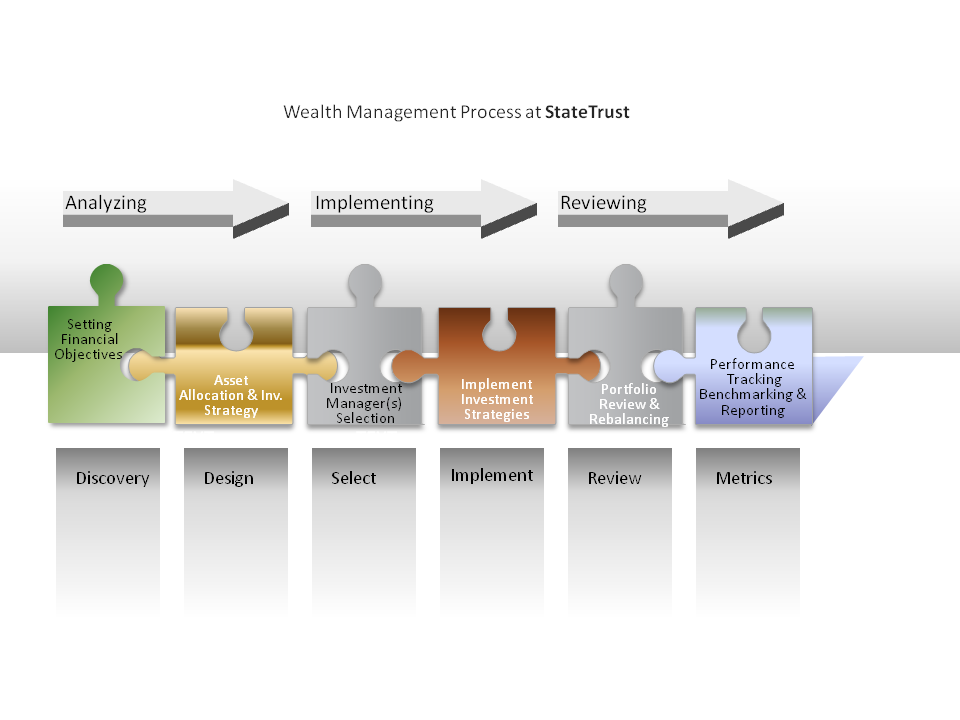 Understanding the Client
StateTrust wealth advisors will use their first meeting with you to understand your financial situation, your short term financial requirements and your financial goals for the long run.  It is an opportunity to get acquainted with your personal and family requirements, your understanding of the investment industry, how much you have accomplished towards your financial goals and where you need assistance and guidance.  We call this meeting the Discovery Meeting, and we usually document this meeting using a questionnaire that can be filled out with the help of an advisor or on your own.  Besides the discovery questionnaire, we also use a risk tolerance questionnaire to assess the investment portfolio mix that best suits your needs.
The questionnaires will gather the following information:
Personal information
Retirement Strategies
Saving Strategies
Income Protection Strategies
Wealth Preservation Strategies
Anticipated Events
Types of Assets and Liabilities
Risk Tolerance Level
StateTrust Diamond Service and Communication
At StateTrust we believe that communication is the only way to guarantee best-in-class customer service.  We build solid and clear partnerships with our customers putting strong emphasis in a two-way communication.  We call this standard of service the "Diamond Service".
The Diamond Service is a standard that we defined after researching, identifying and understanding the main drivers to please our customers, and we came up with:
Response Time,
Product Knowledge
Relationship with StateTrust advisor(s). 
We have a methodology that sets goals, tracks and measure results in the shape of surveys and feedback.  Periodically we perform benchmarks and we look for the latest trends to improve our service.
Other forms of communication with StateTrust include:
Electronic platform (available 24/7)
Bilingual call center (card services available 24/7)
Live chat
Local representatives in 34 countries and 5 continents
Monthly newsletters and News Links on our website.
At StateTrust we have a set of ethical principles that are applied in all of our services.
First and foremost, we understand that trust from our customers can only be achieved if we perform with INTEGRITY at all times.
We stress the importance of building solid relationships with our customers but we never forget that we are being held accountable for fact-based and OBJECTIVE decision making.
Our multidisciplinary team of professionals, the decades of financial experience of our staff, and our quest for continuous education allows us to deliver services with COMPETENCE.
StateTrust has zero tolerance for situations where our FAIRNESS could be compromised.  We value our customers and place an emphasis on keeping their trust and in securing their CONFIDENTIALITY.
Conducting business with PROFESSIONALISM and keeping a professional relationship with our customers inside or outside the workplace is for us a key operating factor.
We strive to make sure all our checklists and service procedures have been accomplished; that is our DILIGENT path to servicing our customers.